I'm an Creative Director specializing branding, advertising, visual design and UX in both traditional and digital media. My experience even ranges into emerging technologies such as virtual reality among others. I've worked with companies that range from fortune 50 to small local businesses. Here are just a few of the clients i've worked with over the years.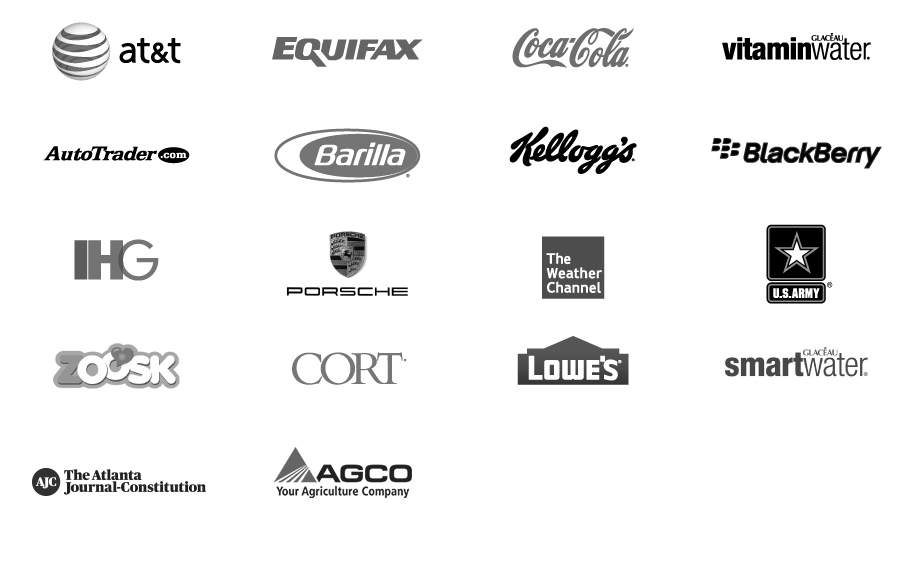 EMPLOYMENT
Creative Director | 2016-Present | State Farm | Atlanta, GA

 Provide strategy and creative direction within the User Experience Department on various digital projects including: emerging technologies and digital transformation efforts related to Enterprise Customer Relationship Management (ECRM). Helped create, lead and work within an end-user, research and design, Innovation and Prototyping team focused on Salesforce solutioning. Facilitated various workshops including: research synthesis, design thinking and service design. Helped identify company pain-points and create current state and future state service blueprints to assist with solutioning.

Associate Creative Director | 2013-2016 | CSE | Atlanta, GA
Responsible for the creative direction on multiple large-scale heavy content sites, responsive design and app design on clients including: AJC.com, Alabama Power, AT&T and AGCO. Worked on emerging technologies such as: virtual reality and augmented reality. Led multiple winning agency pitches resulting in revenue exceeding $2 million. Managed internal teams and external vendors on projects. Provided assistance and insight on UX design, including usability testing sessions.
Digital Art Director | 2012-2013 | Razorfish | Atlanta, GA
Responsible for leading Designers, Copywriters, UX Architects and Motion Designers on national advertising initiatives and large-scale website work. Led several winning pitch initiatives for agency. Worked with global clients such as: AT&T, AT&T Digital Life and Blackberry. 
Senior Art Director | 2010-2012 | Ogilvy & Mather | Atlanta, GA
Worked on various global accounts such as: vitaminwater, smartwater, Coke, The Weather Channel, Durex, Zoosk and KODAK. Instrumental in leading and expanding the global vitaminwater account and The Weather Channel business. Led multiple presentations on global accounts and new business pitches. Helped create global brand standards for vitaminwater experiential work. Concepted in various mediums including: TV, social, digital, traditional and non-traditional. Managed internal teams and outside Illustrators, Photographers and Digital Retouchers. 
Senior Art Director | 2007-2010 | Summit Marketing | Atlanta, GA
Led the studio team, Copywriters, Photographers, and Illustrators on successful marketing campaigns for B2B and B2C brands including: Kellogg's, Coca-Cola, Barilla Pasta, Cinnabon and the U.S. ARMY. Managed all aspects of agency jobs from concept to completion, including: budgeting and timelines. Produced concept boards for client presentation that includes: promotions, collateral, direct and T.V. Expanded agency's business with key clients by producing significant wins and selling in new ideas. Led photoshoots for the U.S. ARMY at the Pentagon and Fort Gordon. Led multiple food-shoots for the Kellogg's and Barilla.
Art Director | 2004-2007 | The Morrison Agency | Atlanta, GA
Worked to solve client's objectives and meet creative strategies by concepting, designing and executing various advertising mediums. Worked with various B2B and B2C clients such as: AutoTrader.com, Porsche, Equifax, Raymond James Financial and Post Properties. Managed photo-shoots, Illustrators, Copywriters and other vendors. Recommended printing techniques and oversaw print production process of work including attending press checks. Worked with account team to ensure all creative elements are on strategy and developed according to the client's expectations. Effectively communicated with traffic and production departments to ensure timely delivery and details of work being developed.
Designer | 2002-2004 | Happy Dog Studios | Peachtree City, GA
Responsible for managing the firm's graphic design projects from concept to completion. Web design capabilities and quality of work enabled firm to expand its business and service offerings. 
Designer | 2001-2002 | W/S Packaging Group-Voxcom | Peachtree City, GA
Worked with advanced levels of Flexo Graphic printing in a worldwide label industry. Produced all label designs and print setup for The Coca-Cola Company.
EDUCATION
Human Factors International CUA Training – 2016
Bachelor of Fine Arts with Emphasis in Graphic Design
Valdosta State University – May 2001
AWARDS/RECOGNITION
Web Award – CSE 2016
Traveling Gnome Award – Ogilvy – 2012
Peak Performer Award – Summit Marketing – 2009
Best of Category – Print Gala – 2007
Silver ShowSouth Award – 2006
Printing Technique Excellence Award – 2005